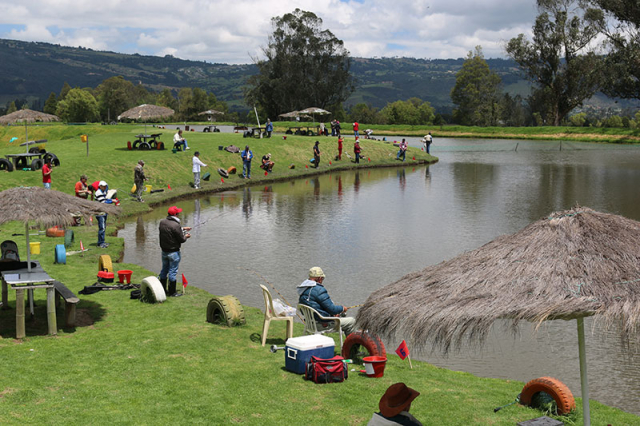 Destinations to practice sport fishing in Bogotá and its surroundings
Sport fishing in Bogotá is one of the plans that most people from the capital carry out. It is a different plan, fun and also involves challenges, which makes it totally addictive. Although sport fishing in Colombia is not a very common activity, it tests the skill of those who practice it and also allows you to immerse yourself in a natural environment and disconnect from the daily routine.
In the Colombian capital and its surroundings there are many places to practice sport fishing. There are also fishing clubs to which you can join if you are already a fan. You should also know that if you do not have the rod or the fishing equipment in these places they will rent it to you and they will sell you the bait at a good price.
So if you want to try something new like sport fishing in Bogotá , here we present the best places to do it.
Where to practice sport fishing in Bogotá?
The Muisca Trout
The Muisca Trout is one of the favorite places of many to practice sport fishing in Bogotá . It is located 800 meters from the town of Guasca via Capillas de Siecha. Here you will find natural lagoons where you can fish rainbow trout of various sizes. In addition, the place has a restaurant, hotel and camping.
Siecha Lakes
Los Lagos de Siecha is one of the places for sport fishing in Bogotá with more than 30 years of existence. It is located on the road to Chingaza Park and in this destination, in addition to two incredible lagoons, you have a restaurant where they serve international food, an events center and a beautiful landscape towards the mountains of the savannah.
Lake of the Neusa
The Lake or Emablse del Neusa is another great place for sport fishing near Bogotá . The license costs 10,000 COP per day and unlike the others where you have no limit, here you can weigh a maximum of 5 fish. At the end you can ask them to prepare what you have caught to your liking or take it home.
Montearroyo
Montearroyo is located half an hour from Bogotá at kilometer 30 via La Vega. In this place you will not only be able to fish all the rainbow trout you want, but you will also be able to observe each of the stages of trout culture, from the juvenile stage, to the raising and fattening. In Montearroyo you will have three lakes at your disposal, as well as a restaurant and advice to spend an incredible day.