You don't know what glamping is, or where to glamping in Colombia? In this article we answer your questions and make the best recommendations for you to have an unforgettable experience in one of these places amidst spectacular landscapes. Relax, know everything about glamping in Colombia and dare to live this experience.
What is glamping?
Glamping is a world-class travel trend that combines the experience of camping in the middle of nature with all the glamor and luxury of a five-star hotel. Thus, the theme of camping is no longer a distant experience for less adventurous people and makes it available to everyone.
It may interest you: The best and most incredible places to camp in Colombia
And like Colombia, it is a country that is always at the forefront of tourism and travel trends, glamping found landscapes that are not found anywhere else in the world and that makes the experience of glamping in Colombia something magical.
Now, although there may be variations, all glamping are composed of individual cabins separated one from another, with different shapes among which are igloos, teepees and nests, among others. You are equipped with double beds, private bathrooms, terraces, extraordinary views and in some cases private chefs.
It may interest you: Glamping, what it is and where it can be done in Santa Marta.
The best places to glamping in Colombia
Cundinamarca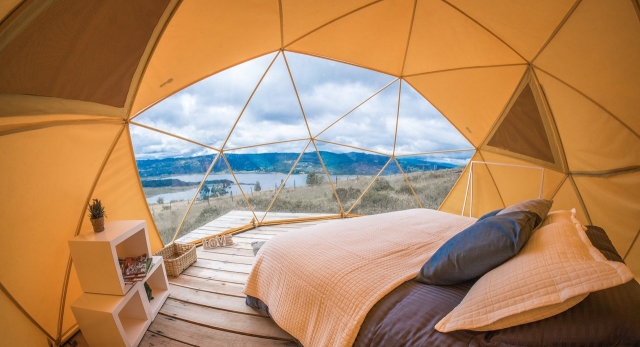 Cundinamarca, and especially the entire Sabana de Bogotá, is a part of Colombia that offers amazing landscapes, intense greens that contrast with the deep blue of the sky. In Guatavita, Suesca and San Francisco are some of the municipalities where you will find some of the best glamping in Cundinamarca with privileged views, starry nights and birdsong.
Tatacoa Desert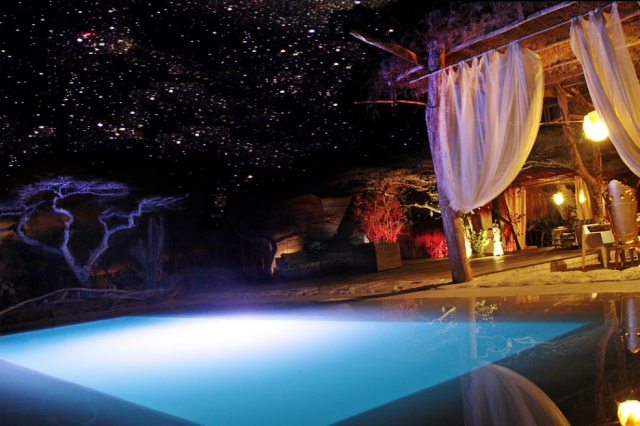 And if it is about glamping in one of the most spectacular places in Colombia, the Tatacoa Desert is the right place. Here you will not only have an incredible connection with the desert but with the indigenous culture that inhabits this place.Whether it is the traditional camping or glamping in the Tatacoa Desert, it is a unique, spectacular and very romantic experience due to the star-filled nights that can be enjoyed in this place, in fact, the Tatacoa Desert is one of the best places to see stars in Colombia.
It may interest you: Tatacoa Desert Tour
Salento, Quindío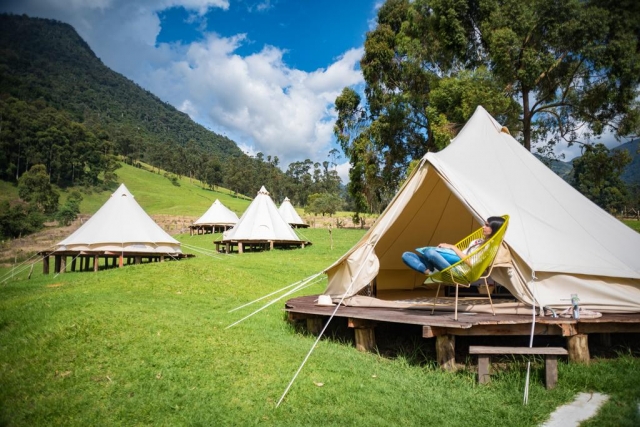 In the middle of a forest surrounded by wax palms; National Tree of Colombia, you can camp in luxury tents in Salento, Quindío, a wonderful destination that houses the mythical Cocora Valley, and from you can make excursions to it for free.The sound of endemic birds of the region will enliven each of the moments in this place.
El Retiro, Antioquia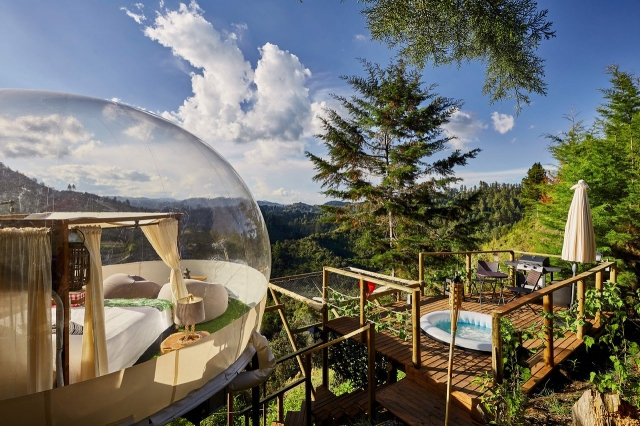 This place has one of the most interesting and attractive glamping sites in Colombia for travelers, as it is a transparent bubble that will allow you to connect with the incredible landscapes that predominate in the Antioquia mountains without losing the comforts and luxuries of the glamping proposal.