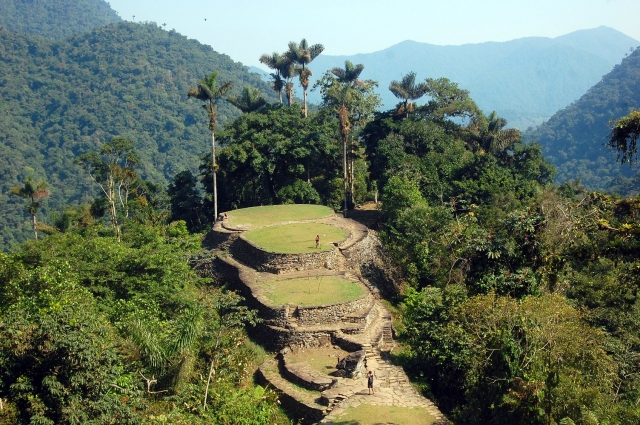 Why visiting Lost City Is it worth it? We give you the reasons
Surely it will have cross your mind to visit Lost City, or maybe you are thinking about that now, however, for reasons of life you have not yet decided to do the Lost City tour, probably because you are not quite sure if it is worth going or not, right?
You may be interested: What to take to Lost City. Guide with everything you need to know to make your backpack to Lost City.
Well, precisely for that reason, we have created for you this article with the reasons to know Lost City and not waste any more time thinking if it is worth going or not.
You may be interested: Tips to go to Lost City, everything you need to know.
Reasons to know Lost City
You must go to The Lost City because it is an unforgettable experience. As simple as that, walking for a few days to get to know a civilization that takes billions of years is a privilege that not everyone can afford having.
Because getting to Lost City is having spontaneous cultural encounters with some of the more than 50,000 indigenous people of the Kogi, Wiwa, Kankuamos and Arhuacos communities who live there and are descendants of the Tayrona civilization, which inhabited this place.
Because the complexity of the architecture and engineering used to build the system of canals that transport rainwater to the population and its impressive terraces that keep the soil fertile is incredible, in addition, The Lost City is one of the few circular architecture reference that exists in the world There are also a large number of paintings engraved in stone that stand out for their diverse interpretations.
The hike to Lost City is considered the best hike in South America, and the Lost City is classified as the Machu Pichu of Colombia, in fact, the creator of Lonely Planet; the guide for the world's number one travelers, and the CNN Travel website recommends visiting Lost City this 2018 because it is "one of the best multi-day excursions in Colombia."
Because The Lost City still retains a great cultural and archeological richness of ancient Tayrona, and not only this, the Sierra Nevada de Santa Marta; where The Lost City is located, it is also one of the highest sea coast mountains in the world, which makes possible a great diversity of climate, ecological, flora and fauna experience.
It was declared a Biosphere Reserve and World Heritage Site by UNESCO.
It is estimated that only 10% of The Lost City has been explored. Researchers believe there are many other sites like Pueblito in Tayrona Park that date from that civilization.
And one more ...

To visit the Lost City is; As I said, an unforgettable experience. An impressive trekking: paths full of the purest and wild nature, where landscapes are born that cannot be seen anywhere else. The tiredness of the road is rewarded with breath taking sunsets and sunrises. Then, when you arrive in Lost City, you feel a sense of triumph, victory, satisfaction, pride, which will surely become an inspiration for life. Traveling to Lost City is also a journey of knowledge, within each one. It is a journey that you will never forget and always remember with the same excitement.
And now what do you say? Is it worth visiting Lost City?