Antioquia is a surprising and wonderful department; It has places that allow you to live unique and unmatched experiences in Colombia . Proof of this is the Salto Del Buey , an impressive waterfall surrounded by vast nature where you can make unforgettable plans.
El Salto del Buey is a natural area where you can find around 10 waterfalls, as well as springs and water deposits. The force with which the great crystalline water jets descend, as well as the rainbows that form when the sun's rays mix with the water and the sound of the surrounding nature will make you feel more alive and happier than ever.
People who have had the opportunity to see this great attraction have been completely surprised by the outside and the energy of this place. So if you find yourself traveling through Antioquia do not hesitate, and go ahead and get to know this destination. Here we tell you how to get to Salto del Buey and what to do.
How to get to Salto del Buey?
To get to Salto Del Buey you must take a bus from the Medellín North Transportation Terminal to La Ceja or Abejorral , since this destination is located in the middle of these two municipalities.
If you take the bus to La Ceja , once you get to the town, you must take a bus or a taxi that will take you to the entrance of the Fatima path. Once you get off, you must walk around kilometers until you find the entrance to the Ecopark where the Salto del Buey is located.
Another option is to say at the terminal that you are going to Vereda El Guaico and take the bus in that direction. You tell the driver to drop you off at La Agucatala and from there you have to walk around 20 minutes to get to the Ecopark.
What to do in the Sato del Buey?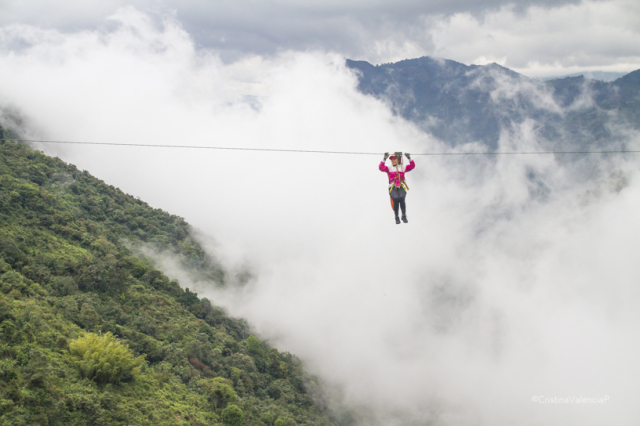 In this spectacular natural attraction you can enjoy the fauna and flora, go bird watching, and do extreme sports such as flying in the highest canopy in the world, climbing a climbing wall, hiking or watching the sunset in a hammock. flying, among others.
The price of admission to the Salto del Buey Ecopark varies, however, the average is 50,000 COP that includes one of these activities.
Recommendations to visit the Salto del Buey
Remember to visit the Salto del Buey with comfortable clothes
Wear shoes with good grip
Bring a change of change for when you go out
Do not forget sun protection items such as a hat, glasses and sunscreen.
Remember to be a responsible traveler.