Next we will show you which are the beaches of Tayrona Park , one of the most spectacular destinations on the Caribbean coast and in all of Colombia.
Tayrona Park Beaches
Cabo San Juan del Guía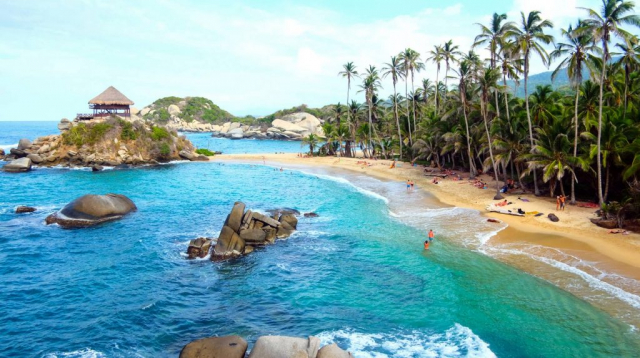 It is one of the most beautiful and well-known Tayrona Park beaches . It is also among the most beautiful in Colombia and South America. The beach is surrounded by a lot of nature that combines perfectly with the blue of the sky and the Caribbean Sea. The painting is completed by a kiosk that is located at the top of a small hill and from where you can have beautiful photographs.
Cristal Beach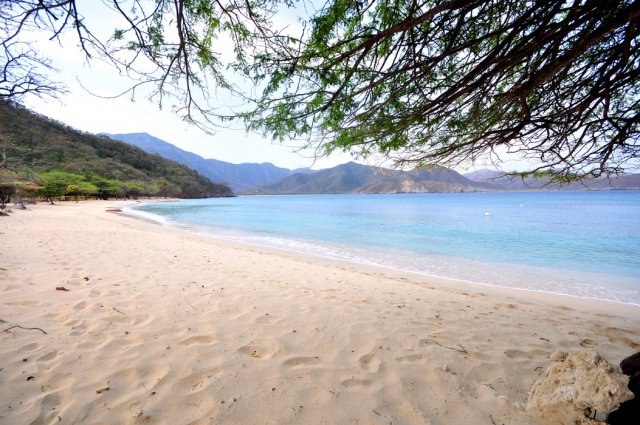 Playa Cristal is another of the most beautiful Tayrona Park beaches that you can visit. It is also known as Playa del Muerto , because in this place the indigenous people performed rituals when someone died, today it is a beautiful place to rest, relax and fall in love with its deeply crystalline waters. This is his name.
The pool
It is one of the few beaches in Tayrona Park where you can swim more calmly. Its name is due to the fact that it is surrounded by stones and this gives the feeling that it was a swimming pool. It is small, but that does not mean it stops being beautiful and attractive. This beach is located between Arrecife and Cabo San Juan .
Belt
Cinto is characterized by its quiet beaches and blue-green waters. Its yellow sand gives it a golden touch, which enhances the beauty of this had and makes it more charming. It is a good place to practice snorkeling or snorkeling due to the great coral life that is here. To get to Cinto you must take a boat from Taganga or Neguanje.
Neguanje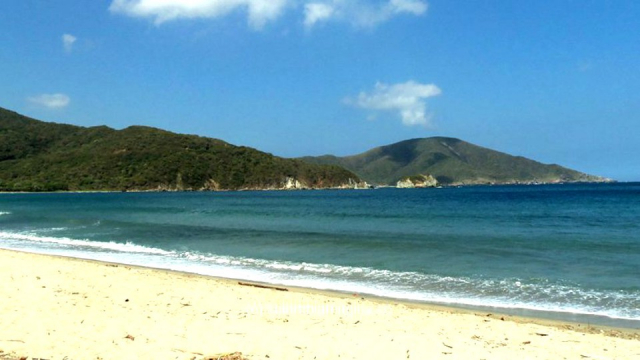 It is one of the largest beaches in Tayrona Park . From this beach you can get closer to Playa Cristal, Chengue and Bahía Cinto . For a long time it served as a cemetery for the natives, which is why this beach is considered a holy field.
Nudist Beach
It is actually called Boca del Saco and it is not legally constituted as a nudist beach in Tayrona Park. However, visitors usually practice this activity on this beach because it is hidden, alone and away from the busiest areas of the park.
Brava Beach
You get to Playa Brava through the entrance to Calazo after passing through Pueblito. It can also be reached from the Zaino entrance but the path is much longer. The path that leads to Playa Brava is quite ascending and with little flat travel, which is demanding, however during the tour you will be able to see a great diversity of streams, fauna and flora; a show that is worth it.
Palmarito
It is one of the smallest and inaccessible Tayrona Park beaches; You have to walk between 3 and 4 hours on trails that are not marked. Its name is due to the fact that the entire area of this beach is full of coconut palms. Another important point is that Palmarito is not suitable for swimming due to its strong waves.
Guachakyta
It is another of the Tayrona Park beaches where the beauty of its landscape and its gentle waves make it a perfect place to rest and forget about everything. The beach is small and has little marine life but in return you will find other attractions that replace it.
Castillete
It is one of the first beaches in Tayrona Park to be found at the entrance to Zaino. It is not suitable for bathing due to its strong wave, however it offers spectacular landscapes. It has a large camping area, hammocks and cabins to sleep in Tayrona Park.
Reedbed
Cañaveral Beach borders Castillete and although it is small it is one of the dangerous ones and you cannot swim. However, it has a sector called " La Piscinita " where you can swim with complete peace of mind. It is located in front of the ecohabs type cabins that are inside the park.
Reef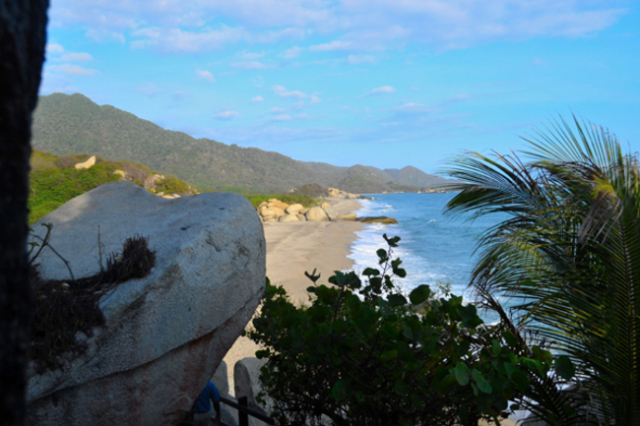 It is perhaps the largest beach in Tayrona Park , however it is not suitable for swimming. To get there you must cross a humid and wooded jungle. On the path that leads to Cabo San Juan you can see the Arrecifes Beach and all its beauty.
Sand
This beach is a 10-minute walk from Arrecife and one of the Tayrona Park beaches where it is possible to bathe. Of this beach, its white and thick sand stands out, where it is possible to relax and enjoy nature.
Seven waves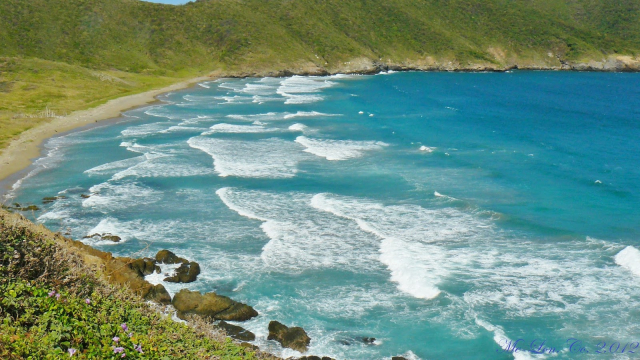 It owes its name to the row of waves that flow in sequence to the shore of the beach; in total there are 7 and that is why the name of Siete Olas . It is not suitable for swimming due to its strong waves and is on the way to Neguanje , where there is a small viewpoint from which you can see from beginning to end.
Gayraca
Gayraca is one of the least crowded beaches in Tayrona Park ; It is ideal for snorkeling or snorkeling as it has a large expanse of coral reefs where you will see many fish and other marine life.
Chengue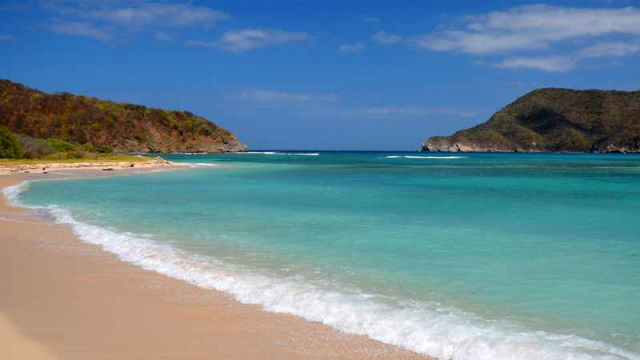 It is another of the less crowded Tayrona Park beaches because it can only be reached by boat or by an undemanding path. It is a fairly small beach and its sand is very fine and white, however both the color of its waters and the lush nature that surrounds it make this one of the most beautiful beaches in Tayrona Park.