Going to Lost City is definitely one of those unforgettable experiences worth doing. If what you want is to change your daily monotony and connect with nature then the Lost City Tour is the perfect activity for you. Besides, you will also enjoy all the stunning landscapes that the Sierra Nevada of Santa Marta has to offer you. The Los City territory is known as Teyuna by the indigenous people, and therefore its complete name is Parque Arqueológico Ciudad Perdida Teyuna.
You might be interested in: Why visiting the Lost City, Is it really worth it? We will tell you why
Let?s start with some basic information. It is believed that the city was built around 800 b.C and then remained hidden between 1.550 and 1.600. It is an impressive complex; many anthropologists agreed that the engineer used by the indigenous people shows remarkable complexity.
You might be interested in What to bring to Lost City All you need to know to pack your bag if you go to Lost City.
At this point, you might have heard that it is not worth walking 4 to 5 days to go to the Lost City and just stay one hour up there. However, all these are weak and pointless arguments when you are conscious of the ancestral wealth of one of the most ancient civilizations. Going deep into the jungle, interacting with the local indigenous people, beholding with your own eyes the Lost City and experiencing the positive energy surrounding the place is not worth only 4 or 5 days, but definitely more.
Nonetheless, we are aware that going to Lost City is not that easy and it might be complicated to know what you need to bring with you or what to do to make the trip a lot easier and light, therefore, we have prepared this article with all you need to know to go to Lost City and make this trip a one of a kind experience.
Recommendation to go to Lost City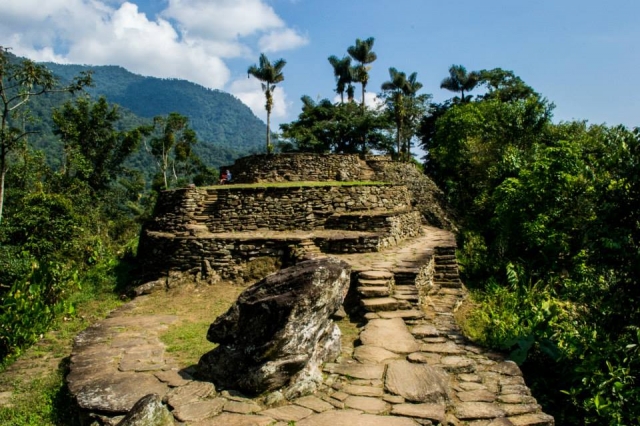 Preparation
One of our main recommendations when visiting the Lost City is to physically prepare yourself by doing some physical exercises a few days/weeks before the trip; remember that the trip consist of walking periods of 4 to 5 hours per day, so it will be difficult if you do not exercise or you are not used to long walks.
But actually, before doing all of this, our most important tip to go to Lost City is to previously book a tour. We, Baquianos Travel & Adventure, can show you all the different options to visit Lost City.
Packing your backpack
It is not that complicated to pack your backpack. Keep in mind that it is a 4-5 day trekking so everything you carry with you will add weight to your backpack so try to include only the essential stuff, the lighter you travel the better.
The essential to go to Lost City is light clothing. Depending on the days you are going to take, take with you the same sets of clothing. As the area is very humid and it is sunny most of the time, try to wear light clothing such as shorts, quick dry shirts.
Although temperature won?t go below 17°C at night, it is recommended to bring some long and warm clothing; they will also help to keep you protected against the mosquitos, even though beds and hammocks have mosquito nets.
Include a bathing suit as well; there are rivers and waterfalls near each camp where you can swim and recover your strength.
Wear adequate footwear for trekking or, otherwise, sneakers with a good grip sole. Do not wear leather boots, since they won?t dry once they get wet. Remember that footwear is really important during the long walking hours so try to use the ideal one. Also, bring sandals with you to use at night.
In addition, remember to take a hat/cap, sunscreen, bug spray, painkillers like acetaminophen or aspirin, a quick-dry towel, camera with enough charge, a charger (there is electricity in the camps), a book, a flashlight, sleeping bag or a light bed sheet in case you are very painstaking with the hygiene.
It is really important to bring your own personal care products and a two litre water bottle.
Documents and valuable objects
Due to the nature of the tour, it is recommended not to take with you all your belongings, especially if they are valuables; they can be damaged, lost or forgotten; so, it is advisable to leave the rest with Guías y Baquianos Tours where they will be stored.
It is always important to carry with you your ID documents, so make a copy of your passport or DNI and leave the original.
Other recommendations
Apart from the previous tips, it is really important to take into account the following recommendations to go to Lost City:
Take two plastic bags with you; one for the wet cloth and the other one for your garbage and wastes. You have to take the second bag with you to the city since there are no garbage collection services up there.
Take cash with you; for obvious reasons, you won?t find ATM or payment terminals up there, and maybe you will need money to buy drinks, sweets or some souvenirs.
Not for anything in the world take pictures of the indigenous people without their permission. This is a very sensitive subject due to their beliefs; so try to ask for permission or ask the guide to ask them if it is OK to take a picture.
And finally...
Last but not least, please remember that his place holds an immense environmental, cultural, historical and ancestral value to the local indigenous communities, therefore, be careful and respect everything on your way.
Now, as hard as the tour appears to be, do not focus on the fatigue or tiredness, but on the beauty surrounding you. The best advice to go to Lost City is to have the best attitude so you can enjoy every second of the best trekking in South America.