Colombia offers impressive and unique places where you can live unforgettable and unrepeatable experiences. Proof of this is Casa en El Agua ; an old vacation home that sits in the middle of the incredible Caribbean Sea; specifically in the Archipelago of San Bernardo , and today it is an Eco-Friendly Hostel.
Casa en el Agua is ideal to spend a weekend disconnected from the stress of the city, eating seafood, relaxing in its facilities, enjoying the sea 24 hours a day and experiencing the best of the Colombian Caribbean with a good cocktail and excellent company.
Casa en el Agua is one of the experiences that you cannot stop living in Colombia and of which you will not want to miss out on anything in the world. So read on and find out, here, how to get to Casa en el Agua, what to do and some tips to plan your visit.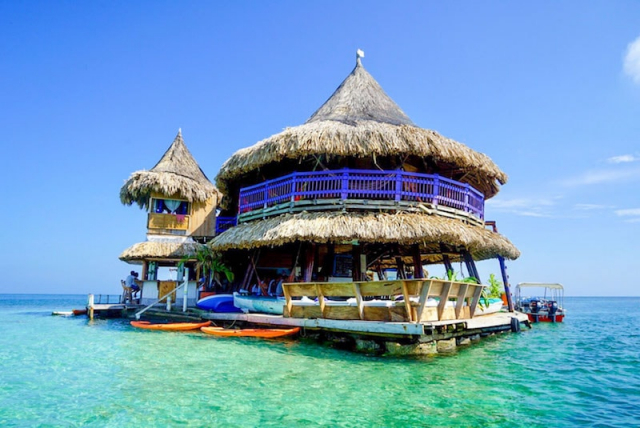 How to get to Casa en el Agua?
As already mentioned, Casa en el Agua is located in the Archipelago of San Bernardo . To get there you have several options.
The first and fastest is to take a boat to Casa en el Agua from the Bodeguita Pier in Cartagena . From this point each journey costs 100,000 COP and the journey takes around 2 and a half hours. When you arrive at the pier, you must pay an entrance tax to the National Park that has a value of 16,500 COP.
Other ways to get to Casa en el Agua is to go to Tolú or Rincón del Mar by land, and once there take a boat to the hostel. From here the boat has an average cost of 80,000 COP. However, this price is variable and depends on the number of people and the season. So if you go to either of these two places, don't forget to put your haggling skills to use.
What to do at Casa en el Agua?
Casa en el Agua is an ideal place to relax, enjoy the sea and all it has to offer is an unforgettable corner of the Colombian Caribbean. But if you are one of those who does not like to stay still, at the reception of the hostel you can sign up for activities and tours such as the Islet of Santa Cruz ; the most densely populated island in the world.
Another activity you can do is take a night tour to see plankton and luminescent jellyfish . Likewise, you can rent kayak, paddle board or snorkel to enjoy your own time at sea or rent a boat to discover the paradisiacal beaches of the nearby islands.
At Hostal Casa en el Agua you will find a bar and restaurant where you can satisfy the basic needs of having a drink and eating delicious seafood dishes.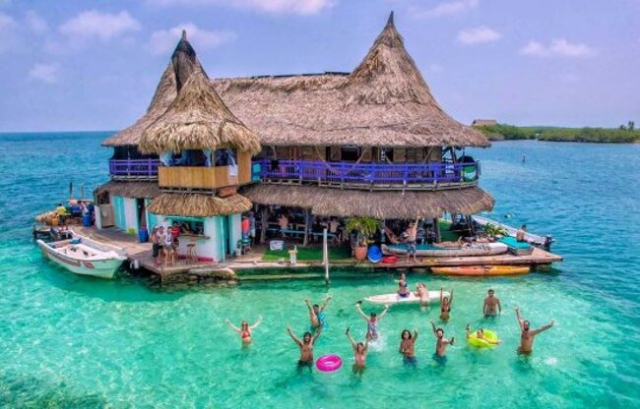 Tips for visiting Casa en el Agua
Make your reservation well in advance. The rooms sell out in record time.
Bring enough cash, as there are no ATMs in the area and payments with cards and transfers sometimes do not work because there is no Wi-Fi in the hostel.
The boats for Casa en el Agua always leave in the morning. Between 8 and 10. So make sure to be on time at the pier or departure point.
It is recommended to carry only one bag of maximum 8 kg that you can carry on your lap, but if you need additional luggage, you should only notify in advance.
It is not allowed to bring your own alcohol or use the hostel's kitchen.
Do not forget to pack repellent and sun protection items such as sunscreen, glasses and a hat. Also, bring some pills for pain or allergies ... just in case.
Although Casa en el Agua is located in the middle of the Caribbean Sea and the days are warm, at night it can be cold. So pack something to keep warm.