The Lost City , is an impressive architectural place that dates from the 700th century AD. It was built by the ancient Tayrona civilization that inhabits the Sierra Nevada de Santa Marta'and that today is the home of its descendants: the Kogui, Arhuacos, Wiwas and Kakuamos. Teyuna, also called, was the most important center among the 250 indigenous settlements discovered so far in the Sierra Nevada de Santa Marta.
It may interest you: Tips to go to Ciudad Perdida, everything you need to know.
The truth is that making a Lost City tour , is rated by all who visit it; and even by international travel portals as an unforgettable experience, the best trek in South America and as important as Machu Pichu. And these are just some reasons to know Ciudad Perdida.
It may interest you: What to do in Colombia when you come for the first time. Places and cities.
However, not everything is easy; the road is long and the walk is exhausting, so if knowing what to take to any trip is important, knowing what to take to Ciudad Perdida is even more important. Take what is necessary or 'things that you might need' It can make the difference between a hard walk but one that can be enjoyed and one impossible to do so. If you want to know what to take to Ciudad Perdida , go ahead and take note.
You may be interested: These are the best destinations to travel alone in Colombia.
What to carry in your bag to Ciudad Perdida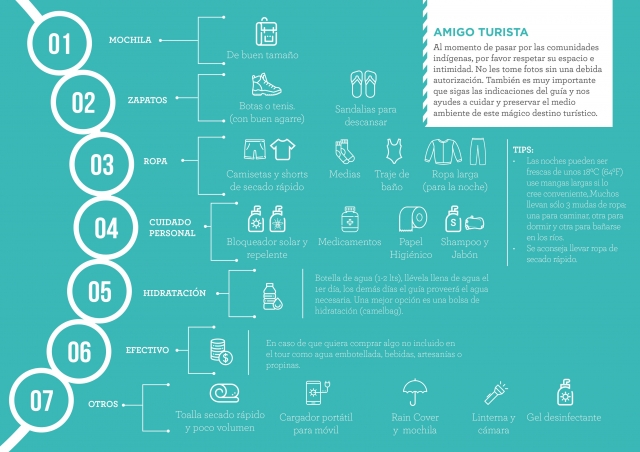 Remember to bring the only necessary medications to The Lost City . If you take any by medical prescription, for allergies, pain and for infection; you never know if you can a have a cut or wound, remember that the road to Ciudad Perdida is jungle, therefore, a wound can be easily infected; However, do not worry that all the guides are trained and certified to solve any eventuality that may arise along the way.
It may interest you: The best beaches of Santa Marta, which are and how to get there.
Now, if you want to know other tips to go to Ciudad Perdida do not miss this article where we give you all the recommendations that you have to take into account.
On your trip to the most beautiful bay in America, we also recommend you visit the Tayrona Park , Minca Taganga or Palomino . Maybe, you also want to get to Cabo de la Vela and Punta Gallinas on your own . If you want to spend a good night in Santa Marta we leave you three lists with the best places to go out to eat , drink and dance.
We invite you, also to follow this path and know all the tips and travel guides so you know how to get there.