The Lost City does not need any introduction at all. It is a place so majestic and incredible that we have mentioned a lot in these blogs. Therefore, before continuing, let us recommend you some articles to read:
You might be interested in: These are the best places to travel alone in Colombia
Lost City, deeply hidden in the depths of the Sierra Nevada of Santa Marta, is a place where the exuberance of nature, architecture, biodiversity, and this place's history are the ingredients to create a unique spot in the world.
You might be interested in:  Biosphere Reserves in Colombia, Which are they and where to find them
In this article, we will tell you how to get to Lost City, depending on the number of days you decide to take for the Lost City tour, however, it is worth to mention that although we tell you how to get to the Lost City, the only way of going there is by taking a certified tour since it is really easy to get lost.
How do you get to Lost City?
First, take into account that the duration of the Lost City tour can take four, five or six days, which will have different itineraries, what does not change is the included services, all of them include transportation, food during the whole tour, lodging, entrance to the Teyuna Archaeological Park (this is the official name of Lost City), travel insurance, a contribution to the indigenous communities, and of course the guide.
4 days - 3 nights High Intensity
Due to the number of days, this tour is the hardest since you have to walk for about eight hours daily during 3 days to get to the top and descend in one single day, which is quite demanding.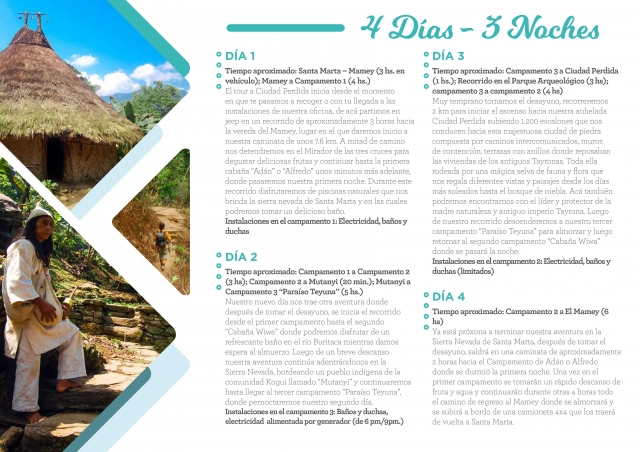 You might be interested in: Santa Marta, things you cannot miss when you visit the city
5 days - 4 nights Medium Intensity
This 5-day tour to Lost City has a medium intensity that allows travelers to go in a normal pace and be able to better appreciate the scenery, which, with no doubt, is one of the most characteristic features of Lost City Tour.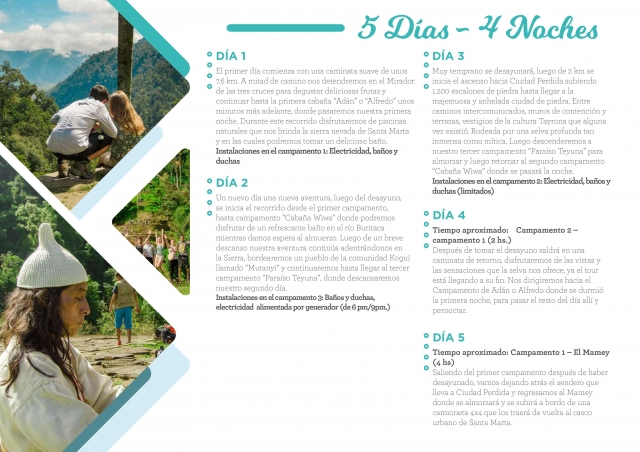 6 days - 5 nights Low intensity
As you can expect and imagine, this 6-day tour to Lost City is the easiest to do because its duration allows you to walk more calmly, so this is the most recommended for people who do not have a good physical condition.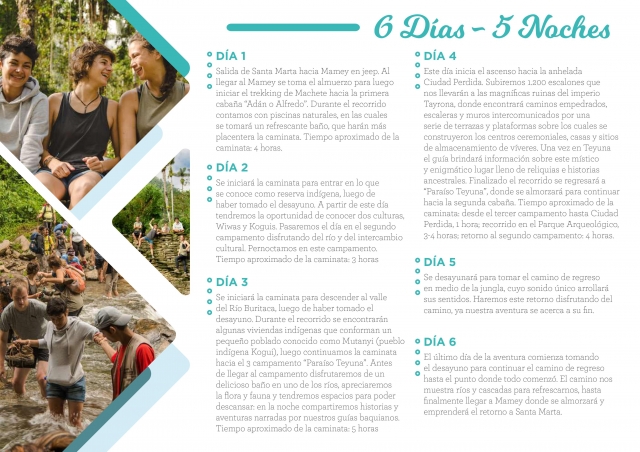 If you have any doubts about the Lost City tour, follow this link; on the contrary, if you want to know how to get to the Tayrona Park, how to get to Punta Gallinas by yourself, or just want to have access to all the Colombia's traveling guides, go ahead and click here.