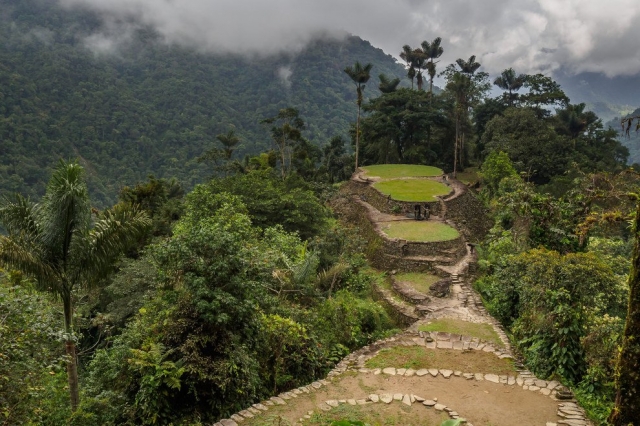 Learn why Lost City is one of the 25 most beautiful places in the world according to CNN.
A few days ago the specialized portal of CNN, published its list of the 25 most beautiful and incredible places in the world, in which highlighted the Lost City, located in the Sierra Nevada de Santa Marta , positioning it in the number 13 of the ranking .
It may interest you: The best routes for trekking in Colombia.
CNN says that Lost City is one of the most beautiful places in the world and one of the most fascinating ruins on the planet earth because it is believed that its structure is older than Machu Pichu for a period of 650 years, and to reach this place located in the Sierra Nevada; appointed by Unesco as a Biosphere Reserve in Colombia , a minimum three-day trek is required on a guided tour to Ciudad Perdida.
However, this is just one of the reasons that makes Ciudad Perdida an incredible place to visit in Colombia and even more if you come for the first time . So that you decide once and for all to visit this magical place, we leave you other reasons and secrets of Ciudad Perdida.
Interesting facts about Lost City
It is believed that only 10% of Ciudad Perdida has been explored , because around the site another hundred similar settlements have been found in an area of 300 square kilometers.
The most interesting of Ciudad Perdida are its terraces that reflect a circular architecture, that means, there were no doors, walls, or any other obstacle that hindered the flow of people, the most important thing was to generate networks that were connected. There was no exclusion.
Studies have shown that beneath what is now Ciudad Perdida , there are buildings and constructions much older and more rudimentary than those that can be seen today.
Lonely Planet in recent years has recommended to travel and visit Lost City because it is the best trekking in South America , and unlike Machu Pichu, this destination is not crowded with people, so your trip will be more pleasant and magnificent.
Although, everyone wants to reach up and see the Lost City with their own eyes, the most important thing is that it is a natural and archaeological journey, spiritual too. The jungle and nature of the Sierra Nevada de Santa Marta , has a special energy that you will experience from the first moment you enter it and will make you live one of the best experiences of your life.
More articles from Ciudad Perdida
Enter here to discover more fascinating destinations in Colombia.