There are 17 Heritage Towns in Colombia found across the length and breadth of the national territory. They are also considered the most beautiful towns in the country because of their architecture and cultural knowledge.
You might be interested in: Biosphere Reserves in Colombia, which are they and where to find them
Heritage Towns in Colombia hold mainly history and tradition which help us to understand the wealth diversity and grace of the country. In these towns, you will experience the essence of each historic event that took place by going around their streets, squares, and architecture; these places have voice, these places have history.
You might be interested in: What to do in Colombia when you come for the first time. Places and cities
Visiting Heritage Towns in Colombia is traveling through history and discover what makes us Colombians.  Stay here, discover these places, fall in love with them and bring yourself to visit the most beautiful towns in Colombia
You might be interested in: Get to Know which Colombia?s Intangible Heritages are
These are the Heritage Towns in Colombia
1. Mompox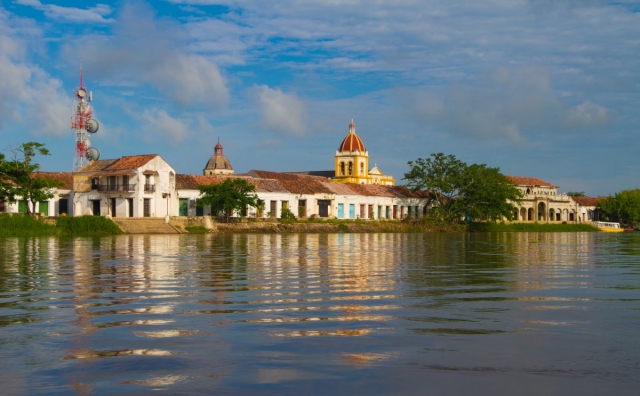 Mompox or Santa Cruz de Mompox is one of the Heritage Towns in Colombia located near the Caribbean coast; it is also considered as a World Heritage Site  by the UNESCO. It is located in the Department of Bolívar and will make you fall in love with its colonial architecture that enhances its religious part. This town is not only full of historical facts but also full of filigree, yellow butterflies and calm waters. If you want to know how to get to Mompox click here.
2. Ciénaga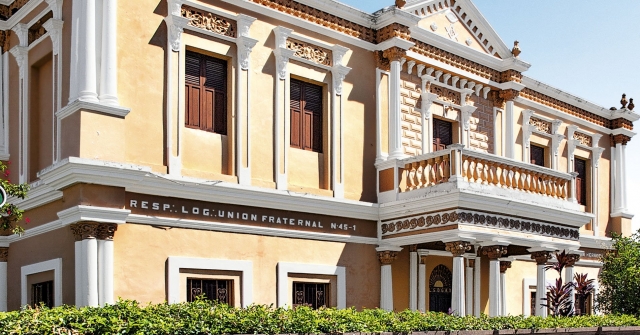 Located in the Department of Magdalena, Ciénaga is not only one of the Heritage Towns in Colombia but also the capital of magical realism. It was the town that inspired 'One Hundred Years of Solitude' by Gabriel García Márquez. It is located between the Sierra Nevada de Santa Marta and the Caribbean Sea. One of the most important activities here is the 'kayaking', which allows you to observe beautiful landscapes and birds. If you are in Santa Marta, click here and find out all you can do in the most beautiful bay in America
3. Guadalajara de Buga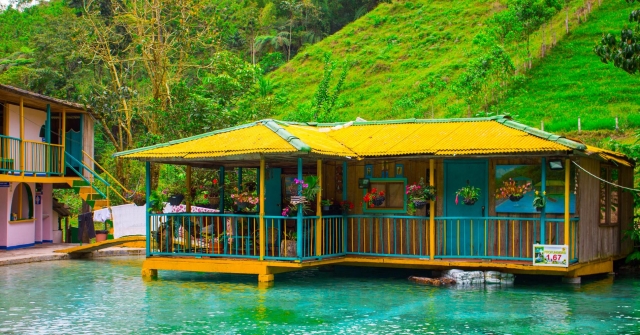 Located in Valle del Cauca and being one of the Heritage Towns in Colombia, this town is famous not only for its beauty and architecture, but also for the Señor de Los Milagros Basilica, which millions of people visit every year, and, as if that was not enough, the most delicious sweets in Colombia are made here, such as manjar blanco bugueño, figs with caramel, the colaciones, the melao, the dulce cortado, bocadillo con guayaba and the melcocha.
4. Guaduas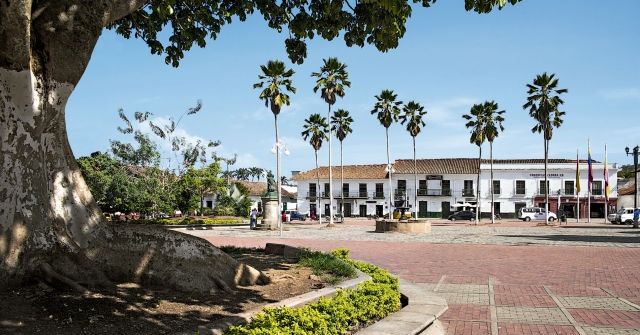 This is a special town because here is where the revolutionary Policarpa Salavarrieta was born and was the epicenter of many historical events related to Colombia?s independence. Guaduas is located in the department of Cundinamarca and it offers a trip back in time to Colombia? history while walking through its beautiful streets and colonial houses.
5. Jericó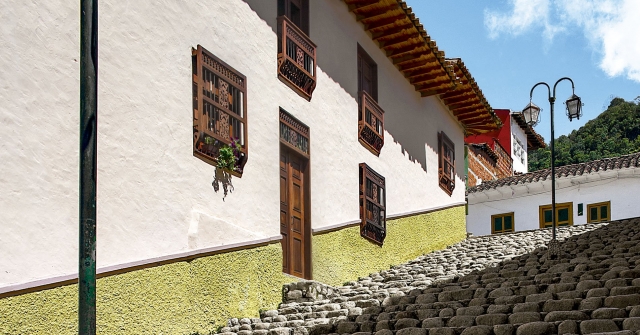 It is one of the three Heritage Towns in Colombia located in the department of Antioquia. It is characterized by its deeply religious tradition manifested in the 17 temples along the town and for being the place of birth of the only Colombian saint: Laura Montoya. Houses in this region are painted with vivid colors which offer a magnificent view.
6. Barichara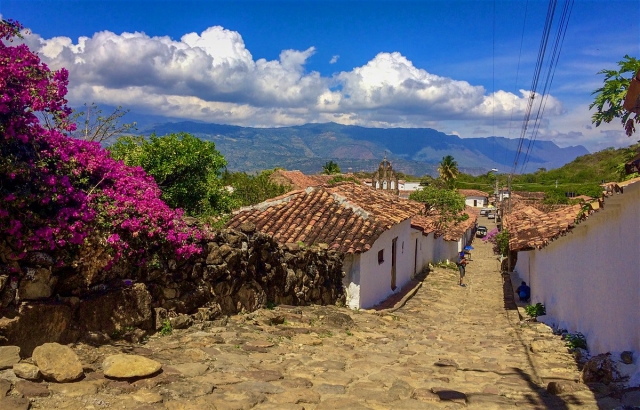 Perhaps one of the most famous Colombian Heritage Towns that exist due to its entirely carved-in-stone architecture. Located in the Department of Santander, this colonial town is very charming, not only for the neatness of its streets and houses but also because there is feeling that invites you to rest, relax and let yourself be carried away by history. For extreme sports lovers, Barichara offers the opportunity to do 'rafting' and 'rappel'.
7. Aguadas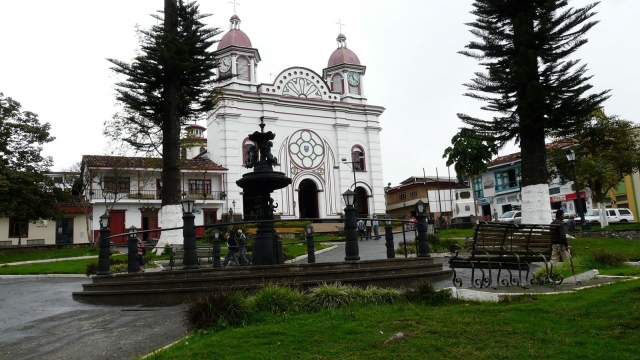 Another Colombian Heritage Town with an outstanding beauty located in the department of Caldas. It possesses an artistic, cultural, folkloric, historical and architectonic wealth. The town is also known as the ?ciudad de las brumas? (haze city), capital of the sombrero, pionono, pasillo, land of the ?Putas de Aguadas?.
8. Honda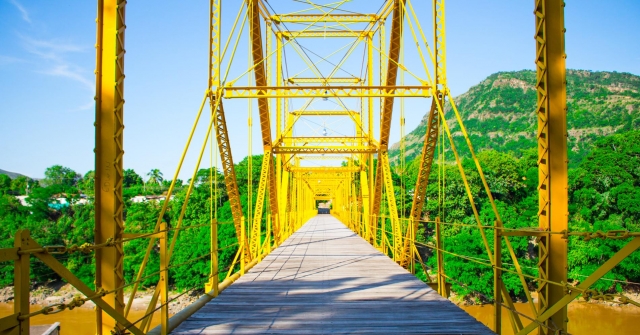 Located in the department of Tolima, this town is famous for the shoal of fish; between January and March, fish coming from the north of Colombia, such as Santa Marta and Sincelejo, come here to lay their eggs in a process called spawning. Also, there is an area called ?Calle de las Trampas?, sector that shows a matchless architectonic wealth; even Spain viceroys lived here.
9. Jardín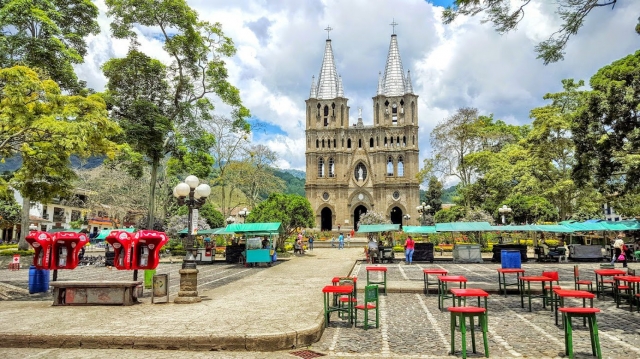 Another Colombian Heritage Town located in the department of Antioquia and listed as one of the most beautiful towns in Colombia. Jardin is an authentic work of art. This town has not changed in one century and it preserves its beauty. It is possible to do different activities like mountain biking, torrentism, hiking, and paragliding. Another plan to do is to ride the aerial cable, a transport service that runs between the town center and the hill of Cristo Rey. Also, it is indispensable to sit in the main square and have a cup of coffee.
10. Santa Cruz de Lorica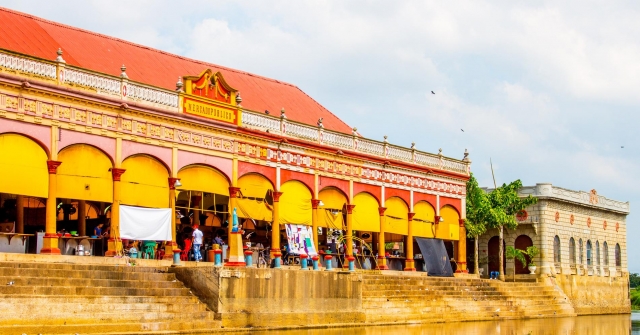 Lorica is located in the department of Córdoba and cannot be conceived without the Sinu River, which attracts many visitors and where the best plant is to sit on the stairs in the shores of the river and fall in love with the scenery in front of you. This town is an excellent example of the Caribbean architecture of colonial times.
11. Playa de Belén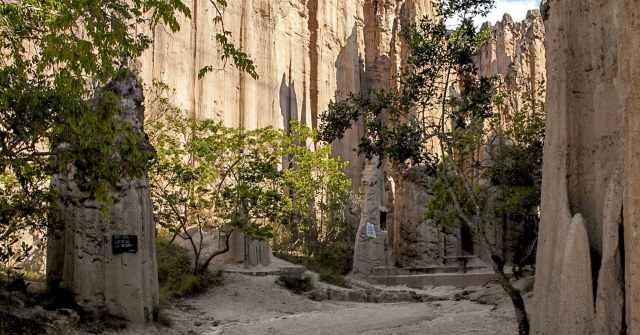 This town located in the department of Norte de Santander keeps its white facades with brown balconies, which undoubtedly is a very characteristic aspect of its landscapes. It is said that it has one of the most beautiful landscapes in Colombia and what is quite particular in this town is that the dead are taken to 150 meters high to be buried, it does not have a single paper left on the streets, and, in the patio of each house, there is a particular tree that gives the name to the Natural Park Los Estoraques.
12. Monguí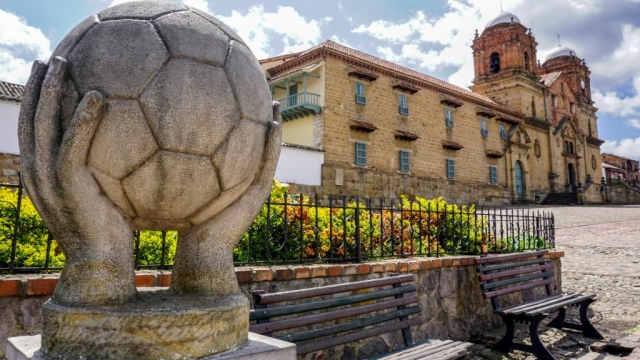 Located in the department of Boyaca, this towns is famous being the place where its main economic activity is making leather handmade balls (especially for soccer and mini soccer). Weather is never hotter than 16°C so bring warm clothing.  Its most characteristic attribute is the Calicanto Bridge, a National Monument that was made with a glue of lime, sand, beef blood and molasses. Of all the Heritage Towns in Colombia, this is the perfect one to fall in love with architecture and connect with nature.
13. Salamina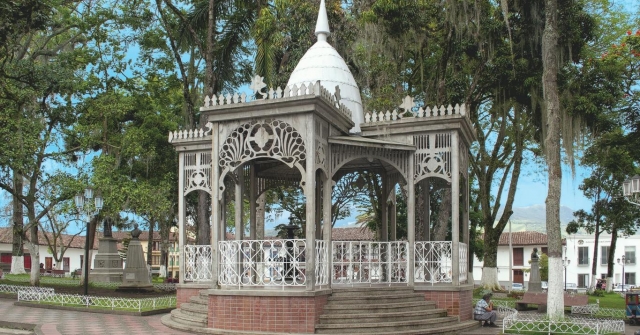 Located also in Caldas and also called as ?La Ciudad de la Luz?, Salamina is described as an open book for its inhabitants and invites everyone to know its history reflected in each corner of this charming town. Its economy is fueled by the coffee industry.
14. San Juan de Girón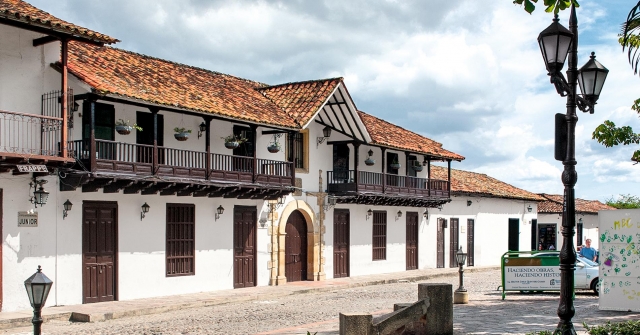 Besides being one of the Heritage Towns in Colombia, San Juan de Girón is a full of history, a faithful portrait of a Spaniard city as fragments of the centuries XVI, XVII y XVIII can be found in its architecture. It is located in the department of Santander and tells the story of people who did not give up and who worked for a greater cause like the struggle for independence. It is a land of tobacco, where can you buy them and get to know the making process.
15. Santa Fe de Antioquia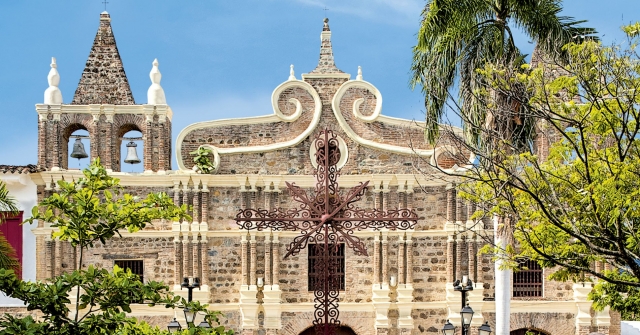 As you can imagine, this town is located in Antioquia. It was the capital of the Antioquia province for a while, therefore called ?la ciudad madre?. Its houses and streets are witnesses of the independence, abolition of slavery, and the great deeds of the national heroes.
16. El Socorro
El Socorro is known for being one of the pioneer towns in implementing tollbooths, building the first convent and the first beer factory in Colombia  The municipality also has great importance in Colombian history since many events related to the independence were carried out in this territory, like the Rebellion of the Comuneros. Visitors can practice rafting on the Fonce River and enjoy hiking.
17. Villa de Leyva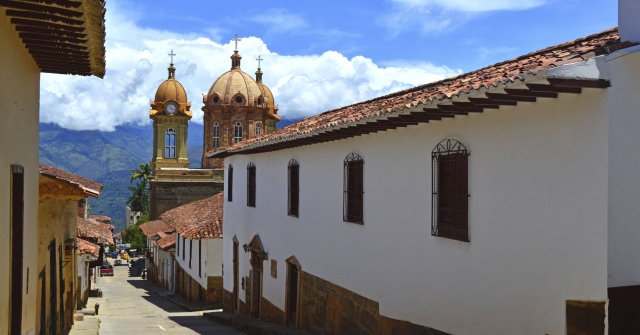 Located in the department of Boyaca, close to Bogota, Villa de Leyva is another Heritage Town in Colombia and it is famous for its colonial architecture, its gigantic cobblestone square, the annually-celebrated Festial del Viento y Cometas (wind and kite festival). Its beauty and grandeur lie in the fact that it was a retreat place for clerics, military and nobles of the time, which is why it is perhaps one of the most beautiful towns in Colombia.