Hiking or trekking in Colombia , can be an excellent way to get to know the country, because doing this type of ecological walks are ideal for those who want to escape the hustle and bustle of the city and connect with nature.
It may interest you: What to do in Colombia when you come for the first time. Places and cities.
Now, due to our great biodiversity, it is possible to do trekking in Colombia , it is a wonderful experience to admire hundreds of landscapes and species, what makes it a must plan when visiting  Colombia.
You may be interested: Biosphere Reserves in Colombia, what they are and where they are.
Next, you will find the seven best routes to do trekking in Colombia , so you can cheer up, pack your backpack, your boots and get on the road.
Discover the best routes to do Trekking in Colombia
1. La Chorrera Waterfall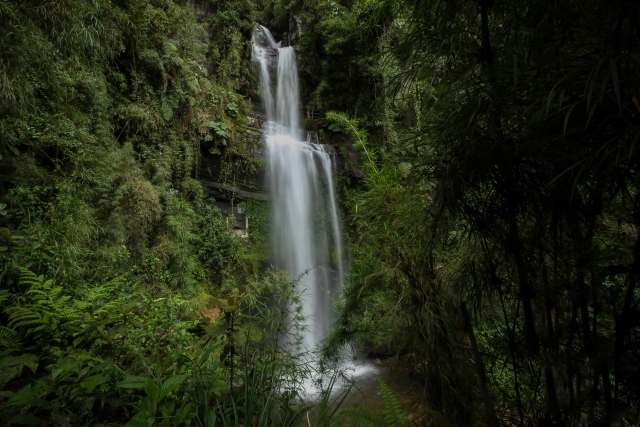 This option is one of the best for trekking in Colombia for several reasons. First, La Chorrera , is one of the highest waterfalls in South America; It has a fall of 590 meters. Second, it is close to Bogotá , just an hour and a half from the city. Third, it can be done in one day easily, which makes its low intensity. And fourth, its grandeur and beauty will leave you perplexed.
2. Tayrona National Natural Park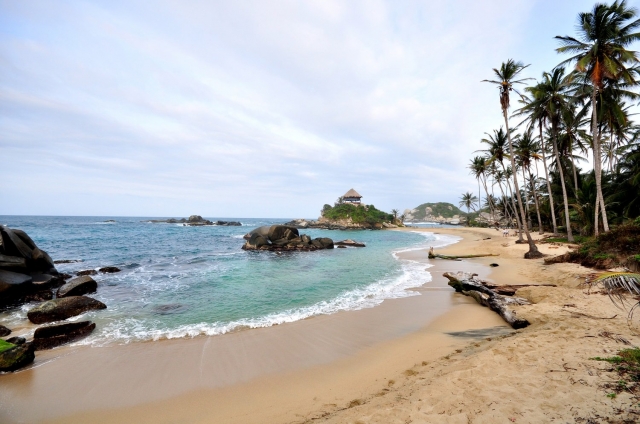 What kind of list would this be without including Tayrona Park as one of the best options for trekking in Colombia ? Located in the Department of Magdalena, in Santa Marta , getting to Tayrona Park and visiting it, is one of the best things you can do in your visit to Santa Marta . The trail to one of the most beautiful beaches in Colombia through out unparalleled landscapes, ecosystems and diverse spices will make you experience a unique feeling. You also have the possibility to go to Pueblito ; National monument and sacred site for the natives. Its difficulty is low from the El Zaino entrance and half through the entrance of Calabazo.
3. El Cucuy National Park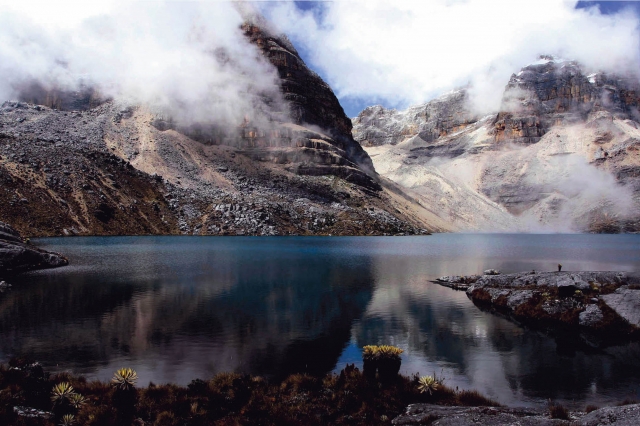 El Cucuy has the largest selection of snow-capped peaks in Colombia ; 15 in total, but this is not all, it has around 150 lagoons, 80 rivers and streams, a reserve inhabited by the spectacled bear, the puma and the white-tailed deer. To climb its peaks you need several days, although you have to check if it is open in advance because it has been closed several times to protect it, but if possible, it is a trek that should not be missed because just its spectacular landscapes make it one of the best trekkings in Colombia .
4. Serrania de la Macarena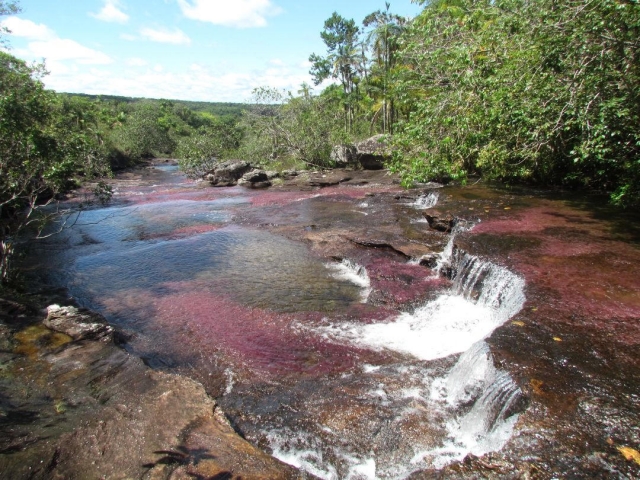 Sierra de la Macarena Natural National Park ; located in the Department of Meta , is one of the best routes for trekking in Colombia , just by mentioning Caño Crsitales, the famous river of five colors, cataloged as the most beautiful of the world. Although getting to Caño Cristales must be done through a tour operator, its difficulty is very low so anyone can do it.
5. Cocora Valley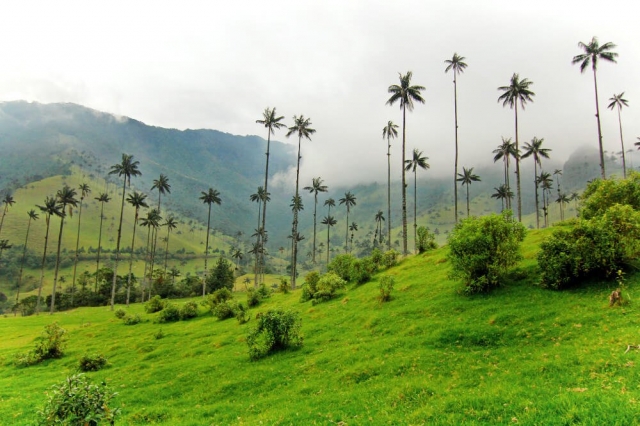 It is the home of the tallest palm tress in the world, with more than 60 meters height, and also a national symbol. Its mountainous green landscapes at 3450 meters above sea level, accompanied by its nice weather and low intensity trek, makes it a perfect trek to do if you are in Salento or the Coffee Region . A plus, the coffee culture and landscapes of this region makes it a  World Heritage Site . From here it is possible to reach the hummingbird nature reserve and climb up to Los Nevados National Natural Park .
6. Purace National Park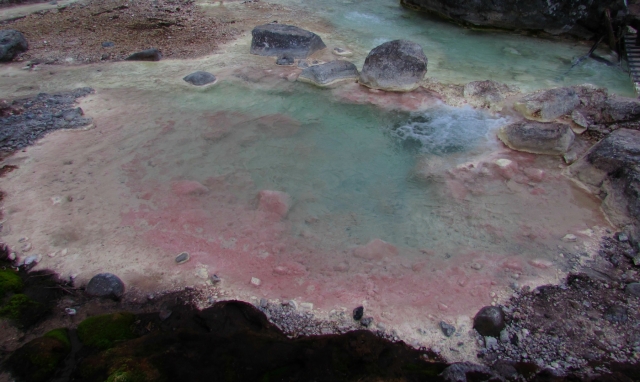 To get here, you must first reach Popayan ; the closest city and one of the oldest cities in Colombia , so it would not be a bad idea to take a tour around it before continuing. This tour can be easily done in a day, and among its landscapes is the Purace volcano; If the weather is fine, see Andean condors, spectacled bears and amazing waterfalls hidden along the way. This park has several circuits that have several levels of difficulty; the Orquídeas trail, which is 800 meters high makes it a very low level trek. There is a seven kilometers trail to the volcano with of medium difficult route, like the Cascas de San Nicolás trail, and finally the Volcanic Chain trail with a highly intense trek with 6.5 kilometers distance.
7. Lost City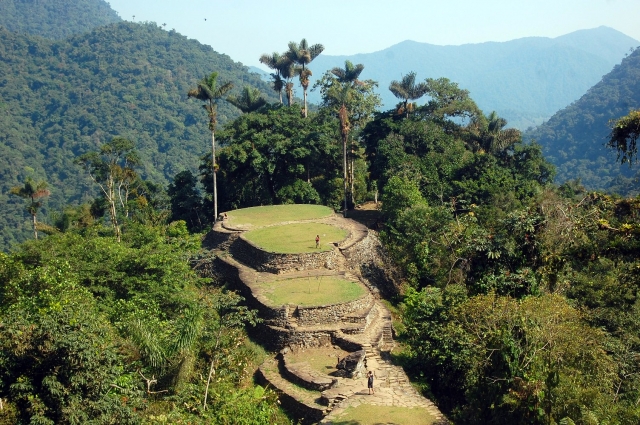 We could not close the list of the best trekking routes in Colombia , with out mentioning the father of the trekking in Colombia . Known as Teyuna or Buritaca 200, it is a city that is literally lost in the Sierra Nevada de Santa Marta, so it takes at least 4 days to get to Ciudad Perdida . It can be a demanding path, but to do it and get to the political, economic, social and religious center of the ancient Tayrona civilization is the best experience you can have in your life. eye! I'm not kidding. Not only due to its landscapes and biodiversity that impress, but its complex architecture dates back to the first centuries of our era and still remains in perfect condition. Clearly you need some tips to make the Lost City trail , but it is definitely worth it and there are many reasons to go to Lost City .